(EHVA) European HIV Vaccine Alliance: a EU platform for the discovery and evaluation of novel prophylactic and therapeutic vaccine candidates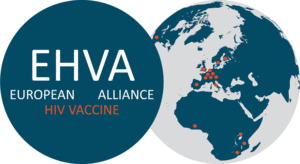 Many HIV vaccine concepts and several efficacy trials have been conducted in the prophylactic and therapeutic fields with limited success. There is an urgent need to develop better vaccines and tools predictive of immunogenicity and of correlates of protection at early stage of vaccine development to mitigate the risks of failure. To address these complex and challenging scientific issues, the European HIV Vaccine Alliance (EHVA) program will develop a Multidisciplinary Vaccine Platform (MVP) in the fields of prophylactic and therapeutic HIV vaccines. The EHVA encompasses 41 partners, each with the expertise to promote a comprehensive approach to the development of an effective HIV vaccine. The international alliance, which includes academic and industrial research partners from all over Europe, as well as sub-Saharan Africa and North America, will work to discover and progress novel vaccine candidates through the clinic.
The EHVA research and innovation programme will lead to a step further in developing the most potent public health strategy with an effective vaccine as for addressing the HIV pandemic.
More detailed information