(LISTEN) Liaison in Scientific Training for European auditory Neuroscience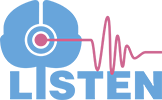 The LISTEN training network is a EU-funded Marie Curie Innovative Training Network (ITN), which trains PhD students in auditory neuroscience. LISTEN stands for Liaison In Scientific Training for European auditory Neuroscience. It consists of European auditory neuroscientists working with several European companies to improve hearing aids (including cochlear implants) and pharmacological treatments for tinnitus and hearing loss. LISTEN started as a 4-year project on 1-12-2016.
Hearing loss and tinnitus are large medical problems that require a multidisciplinary approach aimed at understanding the underlying mechanisms. In LISTEN, multiple laboratories with specialist skills form a collaborative network to train 10 ESRs to tackle complex questions about sound perception, listening and hearing, and particularly the alterations in perception in subjects suffering from hearing loss and tinnitus.
More detailed information