Too much or too little phosphorus and its consequences for health(y aging)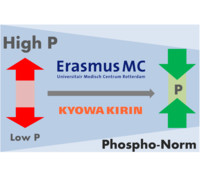 Phosphorus homeostasis is crucial for many processes in our body and when this is disturbed, many systems in our body are affected. In this project, the consequence of too little or too much phosphorus will be investigated in cell and animal models and in population studies.
Ultimately, the integrated knowledge on phosphorus will lead to improved care of patients with disturbed phosphorus metabolism, adaptation of clinical guidelines and revision of dietary guidelines on phosphorus intake but also labelling of phosphorus content on food products with the aim of improving health and healthy aging of the total population world-wide.
More detailed information
Top Sector Life Sciences & Health